JOELLEHANN.COM
Joelle Hann is an award-winning poet and writer hailing from Brooklyn, NY whose essays and poems explore the nature of our deepest relationships, and whose journalistic articles have covered the highs and lows of yoga culture as well as food, film, books and travel. Her work has been published in countless publications such as The New York Times, TimeOut New York, Poets & Writers, Yoga Journal, NPR, YourTango, Yoga International and McSweeney's. We set out to create a simple, clean, no fluff, and, most importantly, easy-to-navigate portfolio site-JOELLEHANN.COM -that showcases her prolific body of work while staying on brand with her consulting business. The Writing & Clips section features the five main categories of her work with an immersive full-width banner image introducing each collection. With Joelle's tireless organizational effort and a shared Google Sheet, I transferred over 100 articles, essays and poems from her old Wordpress site to the new Squarespace site, linking out to live features and PDF scans whenever possible and applying various categories and tags to organize each piece on the backend. We also created multiple bio pages that highlight Joelle's multifaceted approach to life and work as a celebrated author, writing teacher and coach, and yoga instructor. The Press & Praise page features her consulting clients' video testimonials as well as acclaim from her many adoring yoga students. The Press section highlights articles by other authors that she was featured in.
WHAT I DID: RESPONSIVE WEBSITE BUILD ON SQUARESPACE + CONTENT LAYOUT & ORGANIZATION + PHOTO EDITING + DOMAIN REDIRECT
EMBODIEDFLOW.COM
You'd think building a website with 42 pages, 34 events, and 15 products for a team spread out across 4 countries would take a year and a day, but with plenty of inspired brainstorming sessions via Skype, loads of caffeine, and a strong collective passion, we pulled it off in just 4 1/2 months.
The School of Embodied Flow™ encompasses so much more than just yoga- It is an integrative blend of hatha yoga, somatic movement, tantric philosophy, Body-Mind Centering®, movement meditation and transpersonal psychology, that, at its core, provides the foundation for a life-long journey of awakening. Co-creators Tara Judelle and Dr. Scott Lyons are the tireless visionary jet-setters leading countless workshops, teacher trainings, retreats and immersions around the globe every year, bringing hundreds of students into a life of flow. One of our main goals with the site design was to evoke the physical/metaphysical quest that is Embodied Flow™, moving site visitors through different landscapes of both environment and body right on the screen. Through dynamic full-width parallax scrolling, inspired language, and the striking photography of Gina Cholick, EMBODIEDFLOW.COM does just that. The site also details the school's entire curriculum, current and upcoming events, and allows students to apply and sign-up for courses and mentorship programs directly on the site.
WHAT I DID: RESPONSIVE WEBSITE BUILD ON SQUARESPACE + CONTENT DEVELOPMENT & EDITING + DOMAIN TRANSFER + E-COMMERCE SETUP + MAILCHIMP INTEGRATION + FACEBOOK AD MANAGEMENT
SHOPNECTAR.COM
A celebration of beauty, Nectar is a chain of boutique stores in NY's lush Hudson Valley boasting handmade wares from artisans around the globe. Most of the goods are Fair Trade, supporting women's cooperatives and social programs such as tree planting initiatives, aids research, well building projects, healthcare + education. I managed sales, marketing and e-commerce for all of Nectar's stores (3 brick and mortar + an online store) for 5 years, increasing annual sales by 217% across all sales channels.
In 2015 I helped relaunch SHOPNECTAR.COM on a new platform (Shopify), migrating about 3500 products along the way. I designed the homepage wireframe structure, header + footer, helped build out the site's navigation hierarchy, designed + wrote all of the content for the supplemental pages (About Us / Blog / Careers / Shipping & Returns / Privacy & Security / Order Wholesale, etc). I helped organically increase mobile traffic by 61% + local NY web traffic by 26% solely through search engine optimization (SEO) within the first six months of going live. I researched + integrated various back-end e-commerce management solutions including: multi-level reporting, inventory tracking, order management systems, automated order status updates, pre-orders + abandoned cart recovery features.
As marketing manager, I helped shape the company's voice + brand identity. I designed various web-based + physical branded content, marketing campaigns + promotional materials ranging from email newsletters, homepage content + automated customer notification emails to print ads, postcards + signage. I also styled, photographed + wrote descriptions for hundreds of products, always employing effective SEO tactics to boost traffic.
WHAT I DID: WEBSITE MIGRATION TO SHOPIFY + COLLABORATIVE SITE DESIGN & NAVIGATION + E-COMMERCE MANAGEMENT SOLUTIONS + PHOTOGRAPHY + GRAPHIC DESIGN + CONTENT CREATION + CUSTOM EMAIL SETUP + PROMO CARD & FLYER DESIGN
*Please note: much of what you see on Nectar's current site no longer reflects my graphic design work. To see my graphic design work for Nectar please click here.
LINDSAYMCGOWEN.COM
There are few people we encounter in this life that bring magic into our world. Lindsay Aya McGowen is one of them. She is an artist, a gifted spiritual healer, and intuitive channel deeply committed to her clients' evolution. She provides specific detailed guidance to help clients reach their deepest goals + desires. Having experienced personal readings with her, I can testify that her work is potent, uplifting and profoundly restorative. LINDSAYMCGOWEN.COM is a portal into her one-on-one sessions, workshops and private retreats. Together we designed the painterly, textured imagery on her homepage and inside page banners to reflect her aesthetic as a visual artist. I then used that art to create promo cards and flyers to expand upon her marketing efforts.
WHAT I DID: ALL GRAPHIC DESIGN + RESPONSIVE WEBSITE BUILD ON SQUARESPACE + CONTENT LAYOUT + CUSTOM DOMAIN & EMAIL SETUP + PROMO CARD & FLYER DESIGN
CAPTAINBLANKENSHIP.COM
This small business of just seven industrious ladies has taken the world by storm with their truly sustainable bath & beauty brews. Think transparent sourcing, essential oils instead of synthetic fragrances, recycled packaging, and organic ingredients good enough to eat! But they don't stop there- Captain Blankenship is also a 1% For the Planet member, Leaping Bunny Program Certified, and a B Corp. Their motto "Beauty Wild with Nature" certainly rings true, wouldn't you say??
So when they asked me to help redesign their Shopify site, I was beyond excited! They've been leading the way in the green beauty movement, stocking the shelves of international chains like Sephora, Target, Anthropologie and Free People, and needed a site refresh to communicate the waves they're making in the industry. The best part? They're my Hudson Valley neighbors. Together we crafted a visually immersive SEO-rich website with big, bold imagery, illustrative details to bolster the brand, and clear calls-to-action. I also updated their MailChimp newsletter campaigns with fresh designs and custom playful GIFs in line with their branding.
WHAT I DID: WEBSITE REDESIGN ON SHOPIFY + E-COMMERCE MANAGEMENT SOLUTIONS WITH APP INTEGRATION + GRAPHIC DESIGN + CONTENT & PHOTO EDITING + MAILCHIMP NEWSLETTER DESIGNS
ITSAPIZZATRUCK.COM
Doug Cullen is a Hudson Valley legend best known for his 15 year-old sourdough starter, community organizing + commitment to sustainability. He lovingly pays homage to the slow food movement with his mobile pizza business Itsa Pizza Truck and his signature 2-day wild fermented pizza dough, topping it with local grass-fed cheeses, meats + seasonally abundant produce. We created his SEO-rich website ITSAPIZZATRUCK.COM to boost his catering business for private events and weddings, offer a rotating seasonal menu, and sell mobile pizza trailers to other entrepreneurs. In the first year that his site went live, Doug went from booking just 3 events the previous season to a whopping 23 events (plus several that he had to turn away). To boot, every single client found Itsa Pizza Truck through web searches! (Not a single booking was from word-of-mouth.) You can find Doug at local flea markets, farm parties and loads of weddings, his veggie-oil-fueled pick-up truck and mobile pizza oven always in tow.
WHAT I DID: LOGO REDESIGN + RESPONSIVE WEBSITE BUILD ON SQUARESPACE + PHOTOGRAPHY + CONTENT CREATION + CUSTOM EMAIL SETUP + CONTINUOUS AD RETARGETING CAMPAIGN + PROMO CARD DESIGN
SEBENESELASSIE.COM
Sebene Selassie is a teacher and writer dedicated to making meditation and ancient wisdom accessible and relevant for our times. She helps modern spiritual seekers and multicultural change-makers make space for transformation by incorporating liberating perspectives, self care, and new meditation practices. With these tools, Sebene believes we can live with more freedom and joy in the midst of modernity's madness.
We built her an easy-to-navigate website on Squarespace to communicate her offerings, education and experience, blog, press features, client testimonials and a calendar of upcoming events. The homepage features a section showcasing content from each page to engage site visitors and encourage click throughs. We added an announcement bar to the top of her site to entice newsletter subscribers with two free meditation guides. A contact form makes it seamless for site visitors to reach Sebene, and integrating her Instagram feed into the site footer increased her social media engagement.
WHAT I DID: RESPONSIVE WEBSITE BUILD ON SQUARESPACE + CONTENT LAYOUT & ORGANIZATION + GRAPHIC DESIGN + DOMAIN REDIRECT
UPSTATEJAMBOREE.COM
I'd like to introduce you to Upstate Jamboree, my new business baby lovingly birthed with my fiance Tyler Alan Mason out of a deep appreciate for making life as impossibly fun as possible. Our traveling old world arcade culls inspiration from 1500s France, Moorish architecture, and carnivals, bringing a modern twist to good ol' fashioned fun. Featuring traditional lawn games like cornhole and giant Jenga, plus an array of signature custom games built with an unmatched heirloom quality, Upstate Jamboree is sure to have far-flung guests mixing and mingling like long lost friends during cocktail hour.
UPSTATEJAMBOREE.COM utilizes full-width parallax scrolling to showcase the quality of the games, create an immersive user experience, and break up long scrolling page sections. E-commerce functionality allows clients to book rental packages directly through the site.
WHAT I DID: LOGO DESIGN + RESPONSIVE WEBSITE BUILD ON SQUARESPACE + E-COMMERCE SETUP + CONTENT DEVELOPMENT + PHOTO EDITING + CUSTOM EMAIL SETUP
LYNNEHUTCHINSON.COM
Lynne Hutchinson is one of those people you feel like you've known forever- approachable, compassionate and kind. She operates from the heart center in the most authentic way. So it is no wonder that her path has led her to become a Professional Certified Life Coach (after years of work in the nonprofit sector, of course).
Though Lynne and I have never met, this much is clear: She loves​ supporting people to cultivate self-care and self-kindness as the foundation for their growth. ​She listens between the words for energy and new threads of understanding and awareness.​ She is more than a life coach; she is a spiritual partner fully invested in her clients' success and well-being. And so we set out to design a warm, welcoming website that would immediately convey her gentle yet spirited approach to her clients' personal development. The lush watercolor mountain ranges that appear throughout the website design evoke a sense of transformation and wonderment for the journey ahead. Each page on LYNNEHUTCHINSON.COM is simple yet engaging, featuring branding and design elements that embellish without distracting from Lynne's words. I incorporated parallax scrolling in just a few places to lend a dynamic element to the site design, as well as some subtle animation to the header art. With just six pages, we created a simple yet engaging look at what it would be like to consciously create a life you love with Lynne's guidance.
WHAT I DID: LOGO DESIGN + BRANDING + RESPONSIVE WEBSITE BUILD ON SQUARESPACE + CONTENT LAYOUT + ART DIRECTION + GRAPHIC DESIGN + DOMAIN TRANSFER + AUTOMATED NEWSLETTER WELCOME EMAIL DESIGN + BUSINESS CARD DESIGN + STATIONERY DESIGN
DHARMAWAKE.COM
A Hudson Valley yogini focused on bringing wellness to the community, Elizabeth Gross' website was designed to inspire the deepening of practices that support us to heal + thrive holistically. DHARMAWAKE.COM showcases Elizabeth's core modalities of Thai yoga therapy, hatha yoga, women's radical self care, and nature reconnection. Elizabeth brings this ancient wisdom to clients throughout upstate New York, NYC and beyond. Her website features upcoming retreats, workshops and classes as well as her gorgeous blog, and offers an array of products from her apothecary line Selkie Botanica. Her site also integrates scheduling directly into her personal calendar, making it a breeze for clients to self-book private appointments in real-time and for her to manage them.
WHAT I DID: LOGO DESIGN + RESPONSIVE WEBSITE BUILD WITH E-COMMERCE ON SQUARESPACE + PHOTO EDITING + CONTENT CREATION + CUSTOM EMAIL SETUP + SCHEDULING INTEGRATION + BUSINESS CARD DESIGN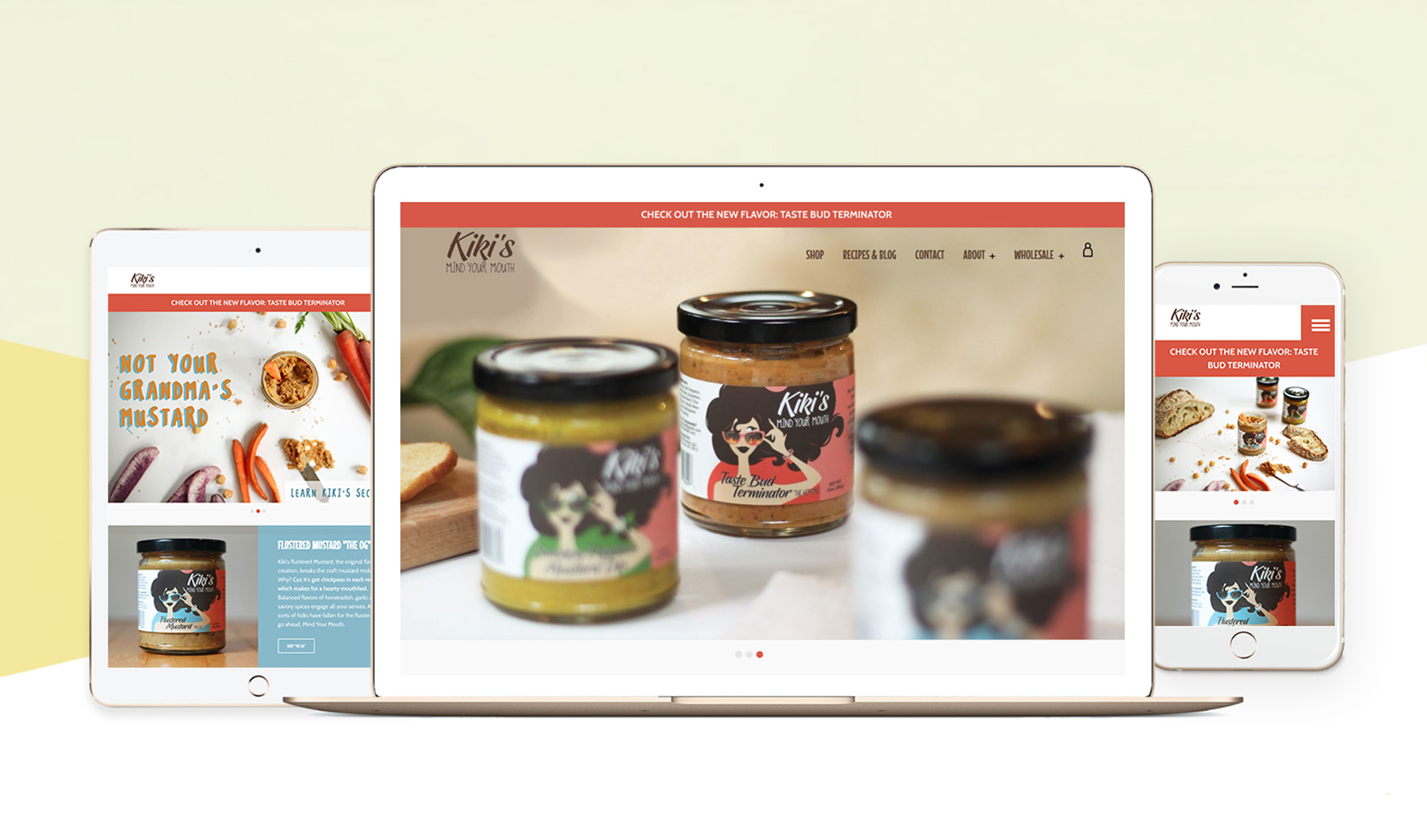 KIKISFLUSTEREDMUSTARD.COM
Kiki was having a hard time with her website. She found it clumsy and outdated, and ever frustrating to manage. What's worse, she was having a hard time getting support from her developer to wade through all the tech nightmares- a crashing site, faulty shipping calculations, no way to accept wholesale orders, etc. I hear this same story all too often from clients, and it breaks my heart. Mustard this good needed an equally delightful website, amirite?!
So I got to it, building out a shiny new high-functioning e-commerce site on Shopify that Kiki would love managing. I wanted the new KIKISFLUSTEREDMUSTARD.COM to feel clean, playful, bold and inviting with a touch of sass to compliment her fun new branding (high five, Thrive Creative!). I started by photographing all of Kiki's new packaging with full-width immersive carousel images and detailed product portrait shots in mind. The homepage takes you on a deep dive of the product line, highlighting all three flavors and the unexpected goodness that gives each condiment its swagger. Together we worked out new shipping calculations that save customers a ton of money, and integrated those custom calculations into the shopping cart, as well as bulk ordering for retail clients. I added a wholesale portal to the site where stockists-to-be can apply and, once approved, log in to place their orders directly through the site. No more time wasted managing manual orders! There are more bells and whistles to come, but for now we are thrilled to have a crisp, inspiring and easy-to-navigate site up in time for the holiday rush! Now why are you still here?? Go get you some!
WHAT I DID: RESPONSIVE WEBSITE BUILD ON SHOPIFY + BRAND TAGLINE DEVELOPMENT + ALL PHOTOGRAPHY ON SITE + GRAPHIC DESIGN + CONTENT CREATION + DOMAIN TRANSFER + FULL E-COMMERCE SET-UP FOR BOTH RETAIL AND WHOLESALE + ABANDONED CART RECOVERY
BONTICOUDUCKS.COM
My work with Polly and Brian of Bonticou Ducks started with a logo redesign, development of a new Community Supported Agriculture (CSA) program to offer locals monthly pick-up of their pastured heritage breed poultry, a flyer and promo card design for their holiday bird, and finally a website redesign on Squarespace. My main goal for BONTICOUDUCKS.COM was to create an easy-to-manage website that these hardworking farmers could update on their own with seasonal tasting and market events while simultaneously selling CSA shares and new gourmet prepared food items as they developed them. I also added a newsletter sign-up form in the footer to seamlessly funnel emails of interested clients to their MailChimp account.
WHAT I DID: LOGO REDESIGN + RESPONSIVE WEBSITE BUILD ON SQUARESPACE + E-COMMERCE SETUP + CONTENT DEVELOPMENT & EDITING + STOCK PHOTO SOURCING + DOMAIN TRANSFER + FLYER & PROMO CARD DESIGN
DRSCOTTLYONS.COM
Dr. Scott Lyons (PhD, MS, MFA, CHT, BMCP/T, RSMT, SME, BMCP, IDME, SEP, CST, BFA, RYT-500), as you can tell from his exhaustive list of post-nominal letters, is a very accomplished man. And so the task of organizing his many credentials and services into a coherent and navigable website at first felt inconceivable. But we did it: DRSCOTTLYONS.COM is a window into his holistic approach to wellness as a Clinical Psychologist, Mind-Body Medicine Practitioner, Embodied Flow™ Yoga Co-Founder and Teacher, Craniosacral Therapist, Reiki Master, Mindfulness-based Executive Coach, Clinical Hypnotherapist, Somatic Experiencing Practitioner, Infant Developmental Movement Therapist and Educator, and so much more.
WHAT I DID: GRAPHIC DESIGN + RESPONSIVE WEBSITE BUILD ON SQUARESPACE + CONTENT LAYOUT + CONTENT CREATION & EDITING + CUSTOM DOMAIN & EMAIL SETUP + MAILCHIMP ACCOUNT CREATION AND INTEGRATION
CORENATUREPILATES.COM
Remaining true to her roots, Anika Choy-Kee's holistic approach to her mind-body Pilates practice extends one step further towards a truly soul-nurturing experience. With 650+ hours of training and years of experience in the Pilates Method, Anika has gained a wisdom that continues to grow with each session and practice. Her site CORENATUREPILATES.COM is a simple and clear expression of her offerings that gives clients an introduction to the principles of pilates and allows them to easily book a session.
WHAT I DID: RESPONSIVE WEBSITE BUILD ON SQUARESPACE + CONTENT LAYOUT + CONTENT EDITING + CUSTOM DOMAIN & EMAIL SETUP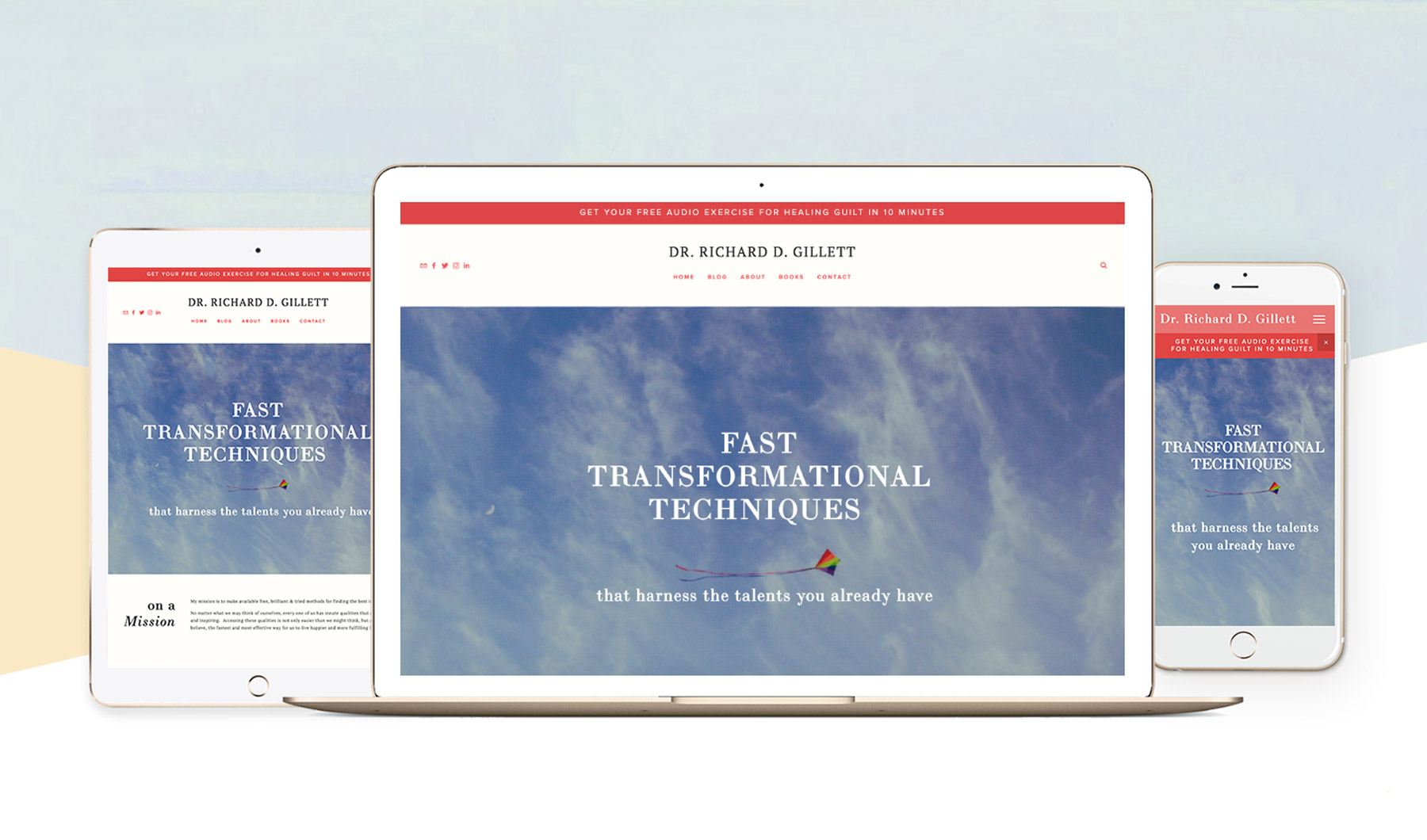 DRRICHARDGILLETT.COM
Dr. Richard Gillett is a medical doctor, psychiatrist and author trained at Cambridge University, England, and a Member of the Royal College of Psychiatrists. Questioning the lengthiness of many standard psychotherapies, Dr. Gillett set out to find briefer and more effective methods of creating mental and emotional change through simple exercises that anyone could do. DRRICHARDGILLETT.COM offers free audio exercises and quick methods for accessing the transforming qualities that we already have within us. Squarespace offered the perfect platform for building a website that is easy for Dr. Gillett to manage and update as he releases new content and works to publish his next book.
WHAT I DID: RESPONSIVE WEBSITE BUILD ON SQUARESPACE + CONTENT LAYOUT + CONTENT EDITING + BRANDING AND LOGO DESIGN + GRAPHIC DESIGN + PHOTOGRAPHY EDITING + CUSTOM DOMAIN SETUP + MAILCHIMP ACCOUNT SETUP + INTEGRATION + AUTOMATED MAILCHIMP NEWSLETTER CAMPAIGN + FACEBOOK AD MANAGEMENT TO GROW MAILING LIST
AWAKENEDHEARTWELLNESS.COM
Kanna Toguchi's life calling is one of service to others. Surviving an upbringing riddled with violence and a troubled early adulthood that brought the passing of both her parents along with the onset of not one but two autoimmune disorders, Kanna is a shining example of the triumph possible through inward reflection, dedication, self-study and love.
Specializing in trauma, anxiety, stress, body image issues, family of origin exploration, loss/grief, digestive challenges and autoimmune diseases (Hypothyroidism), Kanna founded Awakened Heart Wellness to guide clients on a healing journey that embraces the uniqueness of them. Her site AWAKENEDHEARTWELLNESS.COM features a simple layout that offers up her story, her offerings, and a simple way for clients to book a session.
WHAT I DID: LOGO DESIGN + RESPONSIVE WEBSITE BUILD ON SQUARESPACE + CONTENT LAYOUT + CONTENT EDITING + CUSTOM DOMAIN & EMAIL SETUP + FLYER DESIGN
LEELAPUPPETTHEATRE.COM
WHAT I DID: RESPONSIVE WEBSITE BUILD ON SQUARESPACE + CONTENT LAYOUT, DEVELOPMENT & EDITING + DOMAIN TRANSFER
BODYANDSOILHEALTH.COM
WHAT I DID: RESPONSIVE WEBSITE BUILD ON SQUARESPACE + CONTENT LAYOUT, DEVELOPMENT & EDITING + CUSTOM GRAPHIC DESIGN FOR FOOTER AND SECTION HEADERS + STOCK PHOTO SOURCING + DOMAIN TRANSFER